Dick Smith dreamed of owning his own Bait & Tackle Store. That dream came true when he opened up Dick Smith's Live Bait & Taxidermy in November of 1982. Prior to opening up his business, Dick was a Machinist for Milwaukee Chaplet in New Berlin.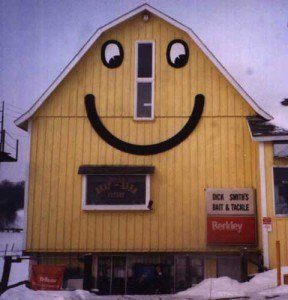 He worked both jobs while pursuing his dream. After 2 years, Dick was able to "retire" from Milwaukee Chaplet. In the early years, Dick started out with a taxidermy business focusing on fish mounts. He also poured jigs, tied jigs, made ice jigs and leaders. He produced the infamous "Dick Smith Panfish Grub" which continues to be a HOT panfish jig to this day!
Dick's passion for fishing began in his early years while vacationing with his parents on Fox Lake. Dick often traveled to Northern Wisconsin to fish, but he soon appreciated that you don't have to go up north to fish, great fishing was basically right out his back door! As Dick's interest in fishing grew, he became a member of Lunkers Unlimited and then joined the Okauchee Fishing Club. He was the President of the Okauchee Club in 1978-1979 and is now an Honorary Member.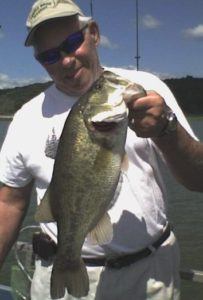 Nancy, Dick's wife of 53 years, handles the financial duties of the business. She is lovingly known as "The Big Boss"
The business is located in the basement of "The Barn", at the corner of Hwy 83 and I-94. The Barn has been a landmark in Lake Country for over 100 years! The Barn's original "Face" was grey barn wood with a smiley face. Dick convincingly suggested to paint The Barn a bright yellow so it would stand out on the freeway.
Dick's daughter Becky, and son Mike are continuing the legacy and fishing traditions of Dick Smith's Live Bait & Tackle.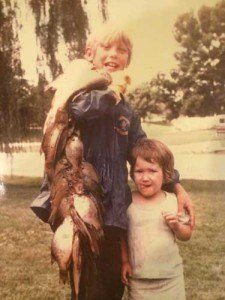 Becky Smith virtually grew up at the bait shop. She started working with her dad at the bait shop when she was 8 years old. She worked Thursday nights to pack bait for the upcoming weekend.
When she was not working, she was fishing with her dad. Not only did he teach her the ropes at the bait shop, he also taught her pan fishing at a young age. Later on, her interests grew and she began learning how to bass fish by listening to, and fishing with, customers and fellow employees. She also competed in local weekly Bass tournaments. At 19 years old she was working full time at the store and at the Delafield post office.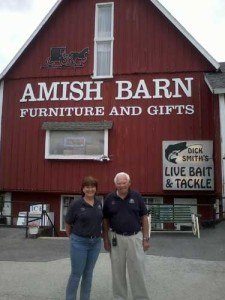 Eventually, she was given the choice of co-owning the store so her Dad could retire. She never thought twice about it. 20 years later and Becky wears many hats at the store including Purchasing and Merchandising. So, if you don't her on the store floor, she is making sure anglers throughout the Midwest continue to have a destination point for all their angling needs.
Mike Smith has also been involved in the business for most of his life. He started working at the store during high school and worked during summers while attending UW-Stout. He went to Stout for printing and started out his career at Western Publishing. He continued to work weekends and the Milwaukee Sports Show while working full-time in the printing industry. In 2014, after being in Sales for various printing companies, Mike decided to get back into the business full-time. Mike also wears many hats at the store including marketing and e-commerce.
Dick Smith's has been a true family business since 1982 and is your one-stop shop for all your fishing needs. Nancy, Becky & Mike thank you for your continued support! Thank you for visiting our site and we hope to see you in the store!