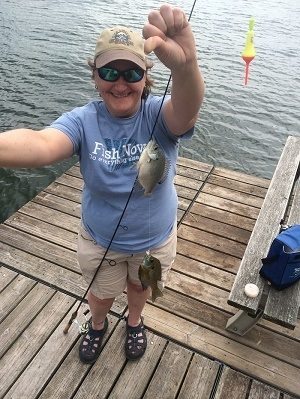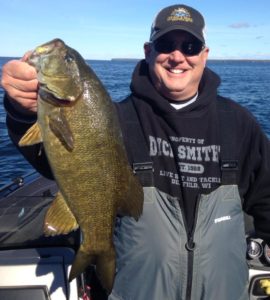 Mike Smith
---
Thursday, October 18th, 2018
Water temperatures were reported to be in the mid 50's this past week. Fall turnover has occurred this week on our local lakes. We will be coming into a Full Moon period, which means fishing should be great! BIG fish can be caught this time of year as fish are putting the "feed bag" on before the winter months.
Musky action was best around weeds in 8 to 12 feet of water, near baitfish. Fishing in deeper structure produced as well, especially for big fish. Casting bucktails, jerkbaits, spinnerbaits, and plastic baits have triggered following muskies. Most muskies however have been caught using 9" to 12" suckers on a quick strike rig. Soak one sucker boat side, a few feet down for following fish. Suspend the other, under a slip bobber, over deeper structure. Use the Dick Smith's Safety Pin Quick Strike rigs with Suckers for best results.
The Rock River is still high and at minor flood stage. The launching of boats has been a challenge. No Wake is in effect. A few shore fishermen have reported catches of Walleye, Whitebass, Crappie, and Catfish. Rubber boots are a necessity if trying to fish from shore. Typical river presentations have worked from shore – Jig and Jumbo Fathead, Jig and Plastic, or a Dick Smith's Naked Fly Rig with a Fly and Jig Combo. Crappie can be found in the trees along the river. Try using a 1/32 oz jig with a fathead minnow underneath a float.
Smallmouth action was best along breaks or rock bars. A small blacktail chub, sucker, or golden shiner fished on a slip sinker rig produced the most action. Casting jerkbaits, crankbaits, chatter baits, or swim jigs also worked well.
Largemouth bass were active around green weed patches in 5 to 15 feet of water, with baitfish present. Casting lipless or squarebill crankbaits, spinner/chatter baits, or swim jigs found active fish. A large golden shiner, small chub or small to medium sucker baited on a circle or octopus hook suspended under a bobber produced best.
Walleye fishing was best during low light conditions where they were found around green weeds or rocks in 4 to 8 feet of water. Soaking a chub, sucker, or golden shiner on a #4 hook fished under a lighted bobber has produced. Casting a minnow or shad style crankbait over the tops of weeds was also effective. During sunny conditions, concentrate on deep structure in 20 to 35 feet of water using a jig or lindy rig baited with a minnow. Snap Jigging Moonshine Shiver Minnows, Jigging Rapalas, or Rapala Rippin Raps is another great method for catching fall walleyes as the temps drop.
Northern Pike were active near weeds or along breaks, near baitfish. A slip sinker or slip bobber rig baited with a sucker or golden shiner has produced. Casting spinners, suspending jerkbaits, crankbaits, and spoons also put fish in the boat.
Bluegills were caught in various locations. Look for them around green weeds in 4 to 12 feet of water along with deep structure in 18 to 30 feet. Fish towards the bottom for larger gills. An ice jig or small hook baited with a waxworm, spikes, redworm, or 1" plastic tail fished under slip bobber or on a split shot rig worked best.
Crappies were found suspended around mid-depth weeds early and late, and suspended over deeper water during the day. A #6 Tru Turn hook or 1/32oz jig baited with a small fathead minnow worked best. This is a great time of year for Crappie fishing !
Perch were found around sand/rock bars with scattered green weed clumps. A small hook baited with a fathead minnow, wax worm, or giant redworm fished on a split rig or under a slip bobber produced.
Please visit the WI DNR website for rules on possession, bag, and minimum size limits.
Please practice Selective Harvesting for the Future of Fishing
Good Luck!
Mike & Becky Smith