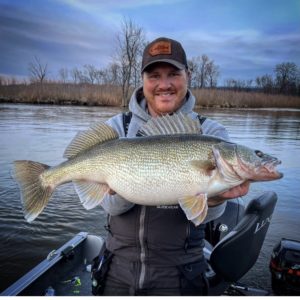 This Saturday, May 1st is Wisconsin's Game Fish opener! Fishing should be great this weekend with the warmer weather on the way! Water temperatures on the area lakes were reported to be in the upper 40's to low 50's.  Warm days this weekend will raise the surface water temperatures into the 50's. Live bait and slow presentations are your best options to catch many species of fish.
Walleyes will be in post spawn patterns. Look for them around weed beds or rock bars in 5 to 10 feet of water, especially areas near current. A jig, slip sinker rig or slip bobber rig baited with a jumbo tuffy, medium golden shiner, small sucker, leech, or nightcrawler will work best. Casting Suspending Jerkbaits, Blade Baits, Rippin Raps or a jig dressed with a Paddletail Plastic will also produce. Early morning or evening hours will be the best times to target walleyes.
Largemouth bass will be in pre-spawn. Smaller males will be cruising around shallower, warm water areas during afternoon hours. Larger females will be found along drop-offs, points, or weeds outside warm water spawning areas.  Casting lipless crankbaits, suspending jerkbaits, chatterbaits, or spinnerbaits will trigger reaction strikes. Brovarney Swim jigs, wacky worms or a football jig and trailer combo will attract bass. A nightcrawler on a split shot rig or suspending a large golden shiner under a bobber will be the best choice for live bait.
Smallmouth bass will be in pre-spawn patterns. Look for the smallies suspended in deeper water around points and rocks. Casting Brovarney Swim jigs, GetBit Tubes, Suspending Jerkbaits  or PaddleTail Swimbaits or will also produce. Leeches, small suckers, jumbo tuffies, or nightcrawlers fished on a hair jig or live bait rig will work well.
Musky fishing should be good this weekend. Small Bucktails, Jerkbaits, small Twitch Baits, or smaller rubber baits are good baits for spring muskies. A Medium to Large sucker rigged on a quick strike rig will also work great. Target drop-offs or shallow emerging weed beds for best results.
Northern pike will be very active during opening weekend. Smaller, more aggressive pike will be found near shallower structure and baitfish. Bigger pike will be found along drop-offs. A large golden shiner, sucker, or chub baited on a hair jig or circle hook rig will work best. Casting Mepps Spinners, Spinnerbaits, Chatterbaits and Crankbaits will also produce pike.
Bluegill fishing was best in warmest water locations. These will usually be found in shallow, dark bottomed bays, channels, and marsh areas. Northern ends of lakes generally warm fastest, so concentrate on these areas first. Weeds, piers or wood will also hold bluegills. Afternoon hours is the best time to target gills when the water will be warmest. A 1/64th or 1/32nd ounce jig baited with a spike, waxworm, redworm, or small plastic tail will work best. A black ant fly, bluegill bug or a Dick Smith's Panfish Grub baited with a wax worm also works excellent. Suspend these under a clear casting bobber or Rocket bobber and make long, accurate casts for best results.
Crappies were found suspended above weeds in 10 feet of water or less near warm water areas. A small or large fathead or rosy red minnow baited on a gold Aberdeen hook suspended under a small pencil or Rocket bobber worked best. Casting a 1/32oz hair jig such as a Chicken Jig or jig and plastic combo such as a Dick Smith's Panfish Grub, Cubby Mini Mite, Gulp minnow, or Bobby Garland plastics will also be effective.
Whitebass have been caught from the Rock, Wisconsin, and Wolf Rivers. Anglers did best using a Dick Smith Naked Three Way Rig with a streamer fly baited with a large fathead minnow. Casting a jig & twister combo, small spinner, Road Runner, or a jig baited with a minnow or nightcrawler also produced.
Coho Salmon fishing has been great in Racine & Kenosha. The Cohos will be making their way up to the Milwaukee Harbor area if they haven't already. The Cohos have been in shallow water chasing schools of Alewives – 15-30'. Small Dodgers and Hammerflies Coho Flies as well as Flicker Shads have worked the best. Run a combination of Dipsey Divers and Planer Board setups for the best results.
The DNR has stocked catchable trout into Lower Genesee and Urban Fishing Ponds. This is a great way to introduce kids to fishing. Small fatheads, small rosy reds, waxworms, and giant redworms will be the best bait choices. Bait these on a #8 hook and suspend under a slip float. Small Rooster Tails or Mepps spinners, Kastmasters or flies will also take these fish. Trout can be found anywhere from the surface down to 25 feet over deep water. Check out https://dnr.wi.gov/topic/fishing/trout/CatchableTrout.html for more information on locations.
Please practice Catch and Release for the Future of Fishing
Good Luck!
Becky Smith & Mike Smith