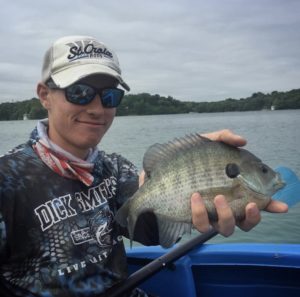 Thursday, July 3rd, 2020
Fishing has been great on the area lakes! Surface water temperatures were reported to be in the mid 70's and will climb near 80 with the projected warm weather heading our way.
Bluegill fishing was best along weed edges in 8 to 18 feet of water, with the larger gills being towards to bottom. Smaller gills were found in shallower water around weeds and piers. A giant redworm, wax worm, panfish leech, hellgrammite or small fathead minnow baited on a #8 hook or 1/32oz jig produced. A 1/32oz jig and plastic combo such as a Cubby Mini Mite, Dick Smith's Panfish Grub or Cubby Nail Tails worked great as well. A slip bobber rig or vertical jigging a split shot or drop shot rig are the best presentations to use in deep water. A small bobber works best in shallow water. Foam spiders, poppers, or a black ant fly fished using a fly rod or an ultralight spinning rod, with a casting bubble, was effective during early morning and evening hours with calm conditions.
Crappies were found suspended along outside weedlines in 12 to 18 feet of water or over deeper water. Casting or drifting with a 1/32oz jig or #6 hook on a split shot rig baited with a small fathead minnow produced. A jig dressed with a 1" to 2" plastic tail such as a Dick Smith's Panfish Grub, Cubby Mini Mite, Crappie Scrub, or Southern Pro Lit'l Hustler Tubes also produced.
Northern pike action has been great! Fish the deeper weedlines or structure near baitfish. A medium sucker or large golden shiner baited on a circle hook with a heavy fluorocarbon leader and slip sinker worked best. Vertical jigging a 3/8oz hair jig baited with a golden shiner minnow also worked great. Casting around weed flats using Chatterbaits, Mepps spinners, lipless crankbaits, Brovarney swim jigs, or swim baits produced smaller, more aggressive pike.
Largemouth bass were in their summer patterns. During early morning or evening hours, fish the weed flats in 5 to 10 feet of water using swim jigs, spinner baits, shallow running crankbaits, inline spinners, or top water baits. Fishing deeper weedlines with Texas rigged plastics, drop shot rigs, jig worms, or wacky jigs have produced. A medium golden shiner, nightcrawler, or large leech fished on a split shot rig or under a slip bobber works best for live bait. Fishing near piers, or other shallow water structure with wacky worms, NED rigs, jig and chunk combos, pre rigged worms, and tubes worked as well. Anglers also had success fishing the slop with plastic frogs.
Smallmouth were found along breaks or cruising shallower rock bars. Brovarney Swim jigs, Keitech paddle tails, and 5" Kalins grubs worked for suspended smallies. Dragging a Get Bit tube jig, drop shot rig, NED rig, or a football jig with skirted grub has also produced. A slip sinker rig with a leech, baby chub, small sucker, or jumbo fathead works best for live bait. Popper style top water baits or flukes have produced during calm conditions.
Walleyes were active along weed edges in 8 to 18 feet of water, along with deeper structure in 20 to 30 feet. Leeches, nightcrawlers, jumbo fatheads, baby chubs, or medium golden shiners worked best for bait. A lindy rig, Jack's weedless jig, spinner rig, or slip bobber rig are the best ways to present these baits. At night or early morning hours, cast minnow style crankbaits over the tops of weeds.
Musky fishing has picked up in the last week. They were found along weedlines or deeper structure. Casting bucktails, spinner baits, crankbaits, and swim baits triggered following fish. Soaking a large sucker on a quick strike rig suspended under a slip bobber will help put fish in the boat. Try fishing top water baits during night-time/early morning hours.
Catfish were caught from the Rock and Crawfish rivers, along with Lakes Koshkonong and Mendota. A medium sucker, nightcrawler, leech, or stinkbait fished on a slip sinker rig worked best for bait.
Lake Michigan is starting to heat up for Cohos and Kings out of all Harbors. Flasher Fly combos, Meat Rigs, and Spoons have been picking up fish.
Please practice Catch and Release for the Future of Fishing
Good Luck!
Becky Smith & Mike Smith