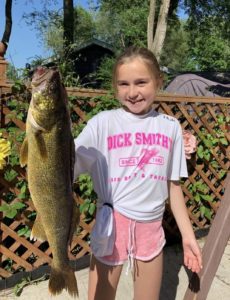 Labor Day Weekend Fishing Report
Water temperatures have consistently been in the mid-70's. However, the temps will be slowly dropping with the forecast of cooler temperatures for the next week.
Bluegill fishing continues to be decent on the area lakes. Look for them tucked into weedbeds in 8 to 15 feet of water or in deeper water 25 to 30 feet. Larger bluegills were found towards the bottom in both locations. Vertical jigging, drop shot rig, or a slip bobber rig were the best presentations to use. Wax worms, giant redworms, or piece of nightcrawler worked best for live bait.
Crappies will start to get more active with the cooler temps. They will be suspended around weed beds in 8 to 12 feet of water during early morning and evening hours. During the day, look for them suspended along deeper weed lines or over deeper water. Casting or drifting while vertical jigging a 1/32oz jig and small or large fathead minnow worked best.
Perch fishing has been relatively slow in the area, but should pick up once the water cools down.
Largemouth Bass fishing will be best around piers and slop, or deeper water with the warm water temps. Wacky worms, Artificial Frogs, Ned Rigs, Chatterbaits, Swim Jigs, Shallow Running Crankbaits and Nightcrawlers will work best around shallow structure. Drop Shot Rigs, Texas Rigged Plastics, Wacky Jigs, and Deep Diving Crankbaits worked well in the deep. A small sucker or large golden shiner on a slip sinker rig or under a slip bobber worked best for live bait. During early morning and evening hours, fish top water baits over 4 to 8 foot weed flats for explosive action.
Smallmouth Bass were found around edges of drop offs near rock/gravel areas. Casting Tube Jigs, Swim Baits, Square Bill Crankbaits, Ned Rigs and Skirted Jigs produced. Drop Shot Rigs fished in deep structure in 20 to 30 feet of water also produced smallies. A slip sinker rig or slip boober rig baited with a jumbo fathead, small sucker, or baby chub worked best for live bait. Top water baits were effective during early morning and night time hours.
Northern pike were very active around mid-depth weed beds. Pike have been caught in deeper structure, 17 to 25 feet, using a medium sucker or Large Shiner fished on a slip sinker rig with a circle hook and heavy fluorocarbon leader. Vertical Jigging a 3/8oz Hair Jig with a Shiner is a good tactic. Casting Jerk Baits, Spinner Baits, and Chatterbaits produced good action as well. Casting or trolling deep diving crankbaits were effective as well.
Walleye fishing was best along deeper structure in 12 to 25 feet. A jig, slip bobber rig, or live bait rig baited with a jumbo tuffy, nightcrawler, small sucker, or medium golden shiner produced. A lead head jig dressed with a 3" to 4" paddle tail can also work great. Early morning or night-time hours, cast suspending Jerk Baits or Shallow Running Cranks over the tops of weed beds.
Musky fishing should pick up now that water has cooled back into the 70's. Try along weedlines or deeper structure. Casting Bucktails, Spinner Baits, Crankbaits, and Swim Baits triggered following fish. Soaking a large sucker on a quick strike rig suspended under a slip bobber will help put fish in the boat. Try fishing top water baits during night-time/early morning hours.
Catfish have been active on the Rock & Crawfish Rivers. Suckers, Neon Nightcrawlers, Chicken Livers and Stink Bait worked best for cats.
The Lake Michigan Harbors of Milwaukee, Racine, Kenosha, Port Washington and Sheboygan have started to produce some King Salmon and a few Browns. The best action will be in low light conditions.  Try casting Darter Heads with a 4-5" plastic, casting glow spoons, or long body crankbaits. Fresh Spawn Sacs under a Slip Float also works well.
Please practice Catch and Release for the Future of Fishing
Good Luck!
Becky Smith & Mike Smith