Delafield Lions Club Fishoree
February 13, 2021 @ 5:00 am

-

6:00 pm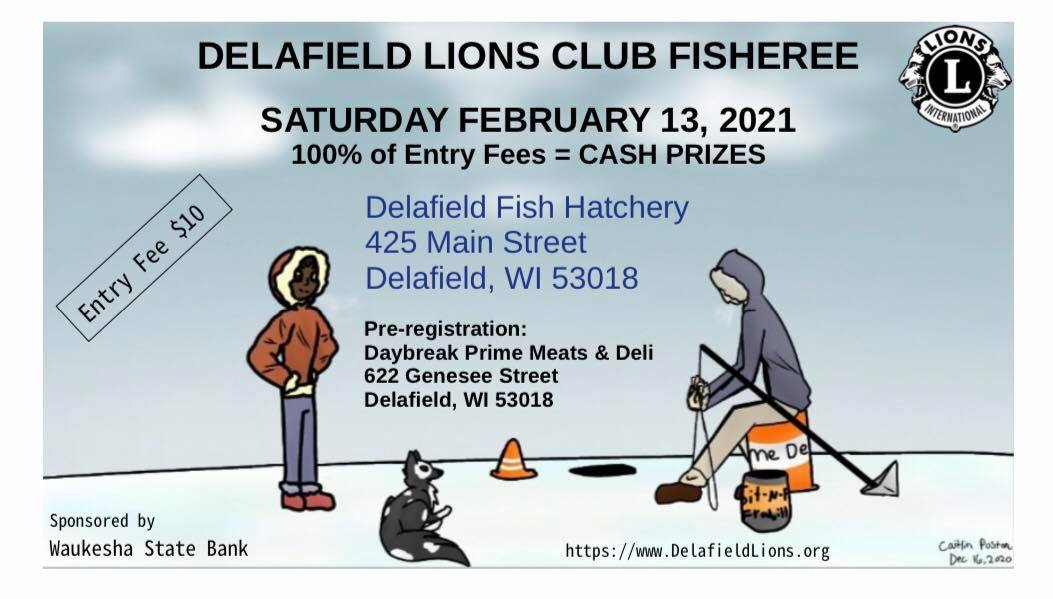 The Delafield Lions Club invites you, your sweeties, your kids, and your friends to join us for a COVID SAFE outdoor event.
Food, drinks, prizes, special activities and shopping, kid friendly.
1:00 – 5:30
AFTER PARTY!!! Raffle Prizes * Beer * Brats * Burgers
DJ Music by Redd LeRoy with Ring Tunes
3:30 – 5:00 Fishing Judged
5:30 Fishing Awards announced, must be present to win.
5:45 Raffle Winnings announced, must be present to win, all items must be taken home.
The Lions Club welcomes Gift Certificates and Prepared Basket Items. Please contact FISHEREE Co-Chair Lion Susie MAR-Thompson preferably by fb messenger, or email at
[email protected]
Fishing Contest Details:
Entry Fee: $10.00/fisher
All Fishers must be registered no later than 9:00 am on 2/13/21 and present in order to WIN!
Pre-registration (for fishers) Jan 8-Feb 12 @ Daybreak Prime Meats and Deli
622 Genesee St.
Delafield, WI 53018
OR
In-person, day of registration (for fishers)
5:00 -9:00am
@ the Delafield Fish Hatchery
425 Main St.
Delafield, WI 53018
100% of entry fees go to CASH PRIZES
Fishing Saturday, February 13th, 2021 5:00 am – 3:30 pm on ALL AREA LAKES. Must return to Fish Hatchery NO LATER THAN 4:00 pm!
You are responsible for practicing SAFETY with Ice Fishing & Locations of your choice.
See comments for Rules and Prizes. Stay tuned for more posts on raffle items, valued at $100 to $1500!